In Your Shoes – Susan Bennett
(This article first appeared in the Dundee & Angus Chamber of Commerce website, 17th December 2018).  
Monday
Well its Monday morning. I skip into work feeling very smug with myself as I have spent the weekend writing Christmas cards and wrapping gifts. I smugly tell my Financial Planning Colleagues I think I am ready for Christmas …mmmn not sure how well that went down?
The day was spent checking reports and reviews that had been completed the previous week, it may be December but there is no sign of a slowdown in Thorntons Investments.
Tuesday
Another day in the office, which consists of catching up with paperwork. The past few weeks have been incredibly busy with client review meetings. We catch up with our clients each year to discuss their plans and objectives which helps us to ensure that their investments remain suitable to meet their needs.  Following each client review meeting I dictate a file note which my paraplanner Zoë uses to compile an annual review letter. Zoë has been busy preparing these annual review letters for me, so I need to spend time checking through to see that they provide an accurate reflection of my discussions with clients.
I also attended an Investment Seminar at Lunchtime, interesting to hear JP Morgan's view on the stock market and what may lie ahead economically. It is a difficult time for investors with so much relying on political aspects such as Brexit and Trade Wars, therefore it is extremely important for Financial Advisers to keep up to date with all aspects to ensure that we provide guidance to our clients at this difficult time.
After work I head off to the gym. It's getting harder to motivate myself as the cold weather kicks in, still I soldier on…need to think of the Christmas party dress.
Wednesday
I started today by announcing to my colleagues that I am trying to reduce my sugar intake, no 11am tea and biscuits for me. I'm not known for my will power in this area so let's see how long I last!
The morning was spent preparing a lifetime plan for one of my clients. We use the most amazing piece of software which can be used to demonstrate a number of client scenarios.  This time I am looking at a client who is about to divorce, she needs comfort that despite the financial separation of assets she will still be able to retire at age 60 and live the lifestyle she wants in retirement. The software can provide this comfort that, based on her savings to date and future expectations of pension contributions, she should still be able to achieve her chosen retirement date. I shall look forward to showing the clients the results, always nice to be able to give clients comfort that despite a difficult period in her personal life she is still on track financially.
By afternoon I am off to visit a new client in Arbroath, hoping that the roadworks are either finished or no longer causing significant delays.
Again, I go to the gym after work, trying to get there 3 or 4 times per week but getting harder to fit it in at this time of year
Thursday
Well firstly sugar update, I managed to avoid 11am tea and biscuits yesterday, but a banana is a poor substitute!
Tinsel starting to appear in various parts of the office, the financial planning hub is looking very, unfestive! Ha – I might need to find some tinsel to add some Christmas cheer next week.
Morning Internal Team Meeting to discuss strategy and changes to our Anti – Money Laundering Process.
Lunch with the team to celebrate my colleague Anne passing her last exam and obtaining her Diploma in Financial Services. We really have had some amazing success in our team in 2018 with two of our paraplanners Anne & Zoë passing their Diploma in Financial Services, and Kim our senior paraplanner also passed her first Advanced Diploma paper as she makes her way through her Chartered qualifications. In addition, our Investment Assistants Ashley & Sarah also completed their Diploma in Investment Advice , go team Thorntons!
Friday
 I think I'm cracking this sugar reduction, and don't think I have been too grumpy…may need to ask my colleagues if this is the case.
I had a client review meeting this morning. It is always nice to catch up with my clients at this time of year as I get to hear their plans for their forthcoming Christmas celebrations. I really do love my job as I have so many lovely clients and it really is a pleasure to work with them and help them to find appropriate solutions to their ever-changing needs.
The afternoon is spent preparing for next week's meetings. Need to get organised as next week is looking like a busy one.
What better way to end a busy week than by heading out after work for a drink or two. I think I shall just choose to ignore the fact that wine has sugar in it!!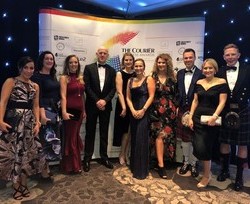 Share this Post