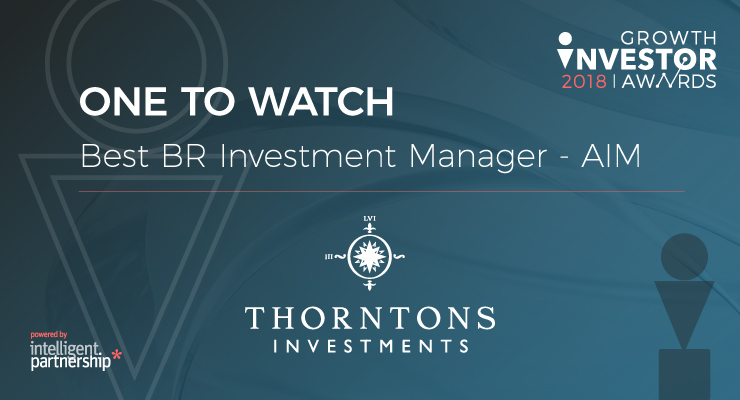 Thorntons Investments named 'One To Watch' at the Growth Investors 2018 Awards
Thorntons Investments named 'One To Watch' at the Growth Investors 2018 Awards.
Thorntons Investments celebrated success at the Growth Investors 2018 Awards at the Royal Lancaster in London.
We were commended by the judges as 'One To Watch' in the category Best BR Investment Manager – AIM.
The Best BR Investment Manager award recognises providers specialising in investments qualifying for Business Relief who can demonstrate innovation in product development and impact on SME growth.  This year, the award singles out investment and wealth managers that are investing into the Alternative Investment Market, in recognition of its well-earned ranking as the world's premier growth market.
From an impressive group of seven contenders, Thorntons Investments was selected by the judges as one to watch for its distinctive investment strategy and astounding results for a relatively new entrant on the market.
Martin Auger, Director at sponsor Reyker Securities, presented the award on 7 November at a black-tie gala dinner for over 450 movers and shakers from the UK's vibrant SME investment community.
Matt Strachan, Chief Investment Officer, commented: "On behalf of the whole team at Thorntons Investments, I am delighted to receive such recognition at what is our first participation in major national awards.  Our aim is to deliver good performance, good value and a high level of service. These achievements are a reward for the hard work and skill that everyone has put into our AIM IHT Portfolio Service and something to be extremely proud of".
Organised by Intelligent Partnership, these prestigious national awards celebrate the role of the UK SME investment community in job and wealth creation, and honour all those involved in putting investment to work in high potential businesses.
Guy Tolhurst, managing director of Intelligent Partnership, commented:
"Thorntons Investments has dazzled the judging panel with the magnitude of its results as a relatively recent player.  I am really keen to see how the company progresses as it matures on AIM."
Share this Post