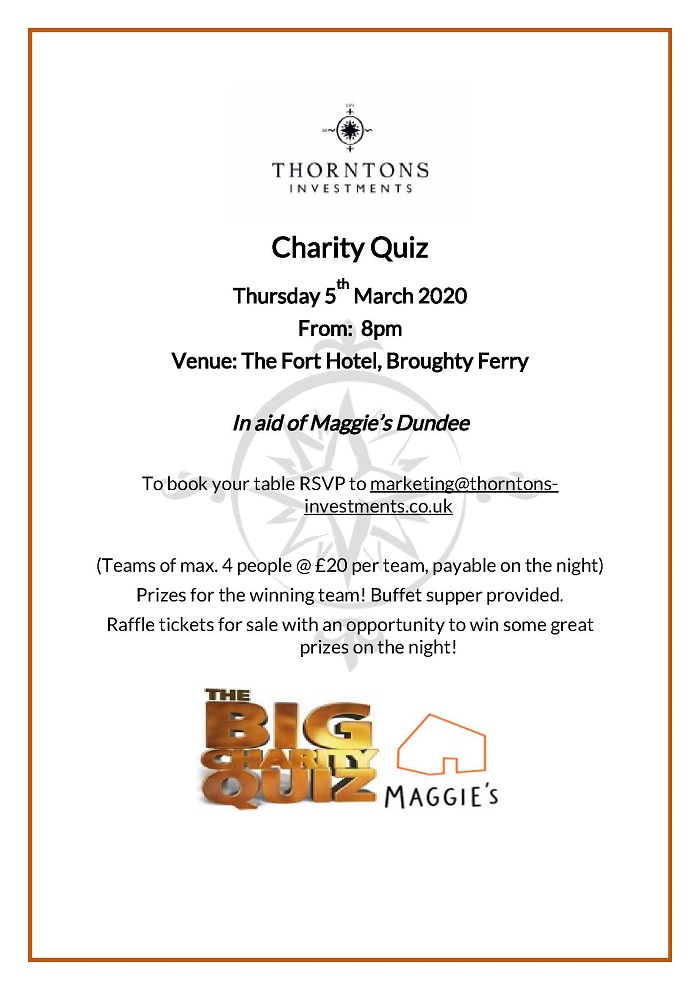 Kicking off our charity year with a Big Charity Quiz
Each year our staff choose a charity to support – it's normally something that has affected a member of the team personally, and this year is no different.
In recent years, we've supported charities including Scottish Cot Death Trust, Beat Eating Disorders and CICRA (Crohn's disease). 
To raise money, we have a regular tuck shop, bake-offs, dress down days, and we've even been known to do the odd sky-dive or marathon in our spare time.
This year, I'm delighted we've chosen to support Maggie's centre in Dundee.  Maggie's help anyone affected by cancer.  I took the opportunity to visit recently and met one of the fundraising team, Laura Boyd.  It's safe to say that I was blown away.  On arrival, I tentatively walked in, and instantly felt at home – it's a little oasis on the edge of the metropolis known as Ninewells Hospital, but the views are spectacular and you're hit with peace and tranquillity.  Not a reception desk in sight, and I received the warmest of welcomes from the team who were in their beautiful kitchen making coffees and eating cake!  Maggie's welcomes anyone into their 'home'.  I can only imagine how difficult it must be, as a cancer sufferer, to step into a place like this – perhaps wondering is this really for people like me? However, following my experience, I really would urge anyone in that position to drop in.  I suspect you'll end up a regular visitor. There's a library full of useful information, equipment and merchandise to pick up.  They also hold regular classes from Tai Chi to mindfulness to friend and family information workshops, as well as one to one advice counselling.
To boost our fundraising activities this year, we've decided to hold a charity quiz, inviting all our colleagues and contacts in the Dundee area to come along on Thursday 5th March, 8pm at The Fort Hotel in Broughty Ferry.  Full details can be found here: Charity Quiz Night.  If you're a regular quizzer, or just fancy helping raise money for a very worthy cause, then please come along – we'll give you a very warm welcome!
Share this Post